CNC Technology On the Cutting Edge
Digirout Spindles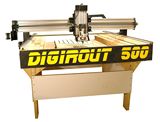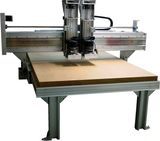 Click on DigiRout Model Below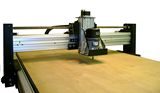 Your DigiRout CNC router can either be equiped with a Porter Cable fixed base router for economy or a high frequency Industrial spindle for extra power.

If you plan on using the DigiRout CNC router intermittently then a Porter Cable routers will work very well. They are one of the heaviest duty fixed base routers on the market.


Give us a call Toll Free at 866-966-4335 to discuss your CNC Router application or email us at sales@digirout .

Also, don't forget that the proper router bit tooling is needed for a fast quality cut.

Different materials require special tooling geometry (for instance plastics typically need a single "O" flute for chip removal).
If you plan on running the DigiRout CNC router continuously or if your application requires high horsepower then we recommend a high frequency inverter and spindle.

The inverter boosts the AC frequency from 60 hz frquency to over 300 hz frequency. This makes the spindle, which is an induction motor, spin at over 18,000 RPM with incredible smoothness and less noise than a fixed base router.

Additionally, the inverter will maintain speed under cutting load by regulating the motor current. The industrial spindles also have ultra high quality duplex angular contact bearings for a high life expectancy.

We offer two basic sizes of spindles. A 1070 frame size (available in 2.7 HP and 4.7 HP) for the DigiRout 1500 and a larger 1090 frame size (available in 6 HP and 8 HP for the DigiRout 2000).

You will need a larger inverter if you don't have 3 phase power in your shop since single phase input power to an inverter must be de-rated.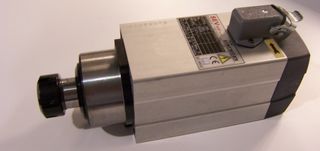 2.7 HP 1070 frame Spindle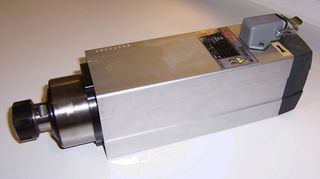 4.7 HP 1070 frameSpindle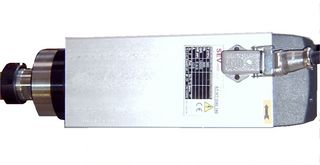 6 & 8 HP 1080 frameSpindle

We can also supply Automatic Tool Changer (ATC) SPindles if your application requires more tooling than can be handled by 2 vertical manual change router heads. Beyond two heads we think the the ATC option is more cost effective then adding more Z axes to the machine. The ATC spindle is available in 5 HP and 10HP.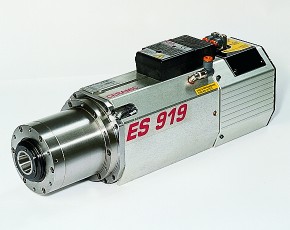 5 & 10 HP ATC Spindle
2.25 HP 892 Porter Cable Router

3.25 HP 7815 Porter Cable Router