| | |
| --- | --- |
| · | Speeds up to 500 Inches Per Minute |
| · | PC based Motion Control |
| · | High Torque Motors and Microstepping Drives |
| · | Precision Multi-Start Lead Screw on X & Z-Axes |
| · | Rugged Dual Rack & Pinion Drive on Y axis |
| · | Custom Aluminum Extruded Bridge and Table Rails |
| · | Precision CNC Fabricated Structural Gussets |
| · | High Speed 2D contouring & 3D machining |
| | |
| --- | --- |
| · | 4'x8' Cutting Area |
| · | Bolt Together Steel Table |
| · | 500 IPM Speed |
| · | Smooth Contouring |
DR1000

Pro

Machine Prices
CAT #
Price
DR1800 4' x 8' x 4" cutting area Industrial CNC Router Kit
DR-1000
$6,800
Bolt Together Steel Angle (2"x2"x1/4") Table (4' x 10' footprint)
ST-4808
$400
5.0 HP High Frequency Square Spindle with Inverter

SP-4KW
$900
X & Z axis 4 row Hiwin Bearings

BR-XZ4



$700

XY 400 watt & Z 48v watt AC Brushless Servo Motors and Drives upgrade
or XYZ DC Brush Motor and 70V G320x Gecko (USA) drives

AC-XYZ
DC-XYZ

$600
$600
X & Z axis 25mm and 16mm ballscrew upgrade
$300
Cut2D DXF to Gcode CAM software
SW-CUT2D
$150
Total of Above without Discount




$9850

DR1000 Pro Package Price with $1000 Discount

PR-1000

$8850

Additional charge for Pre-assembly
AS-1000
$1,000
Linear Bearing & Ballscrew Options

X & Z axis 2 row Hiwin Bearings

BR-XZ2
$500

X & Z axis 4 row Hiwin Bearings

B

BR-XZ4

4

$700
X & Z axis 25mm and 16mm ballscrew upgrade


BS-XZ

$300
NEW: DigiRout 1000

Pro

Package $8850


Hiwin Linear Bearings & Ballscrews, AC Brushless Servos, 4.5kw Spindle!





4'x8' for $6800 (kit price). Save Money. Build it in your Basement!

The DigiRout 1800 CNC router has a full 4'x8' cutting area featuring a user defineable bridge clearance. It is perfect for signmaking and cutting full sized sheets (MDF, particle board, and plastic).

The DigiRout 1800 features a large 5" x 10" bridge with a 8" Z travel , precision CNC fabricated structural steel gussets. custom aluminum extruded frame, high speed gothic arch linear bearings, precision hardened & ground linear guidance rails, high torque microstepping motors, and a high resolution 3200 step/rev microstepping drive.

The incredibly value priced DigiRout 1800 allows small shops to get industrial sized sheet CNC capability for less than $7,000. 4'x8' for $6800 (kit price). Add $1000 for pre-assembled unit.


Lease the DigiRout 1800 for as little as $120 per month*. Download leasing application Or apply online 48 hr answer. Lease rate is less than $5 per day - You may be paying this much for phone and internet service for your business!

See Pricing at the bottom of this page. Add $1000 for pre-assembled unit.


Quality Parts + Factory Direct Pricing = Great Value
CNC Technology On the Cutting Edge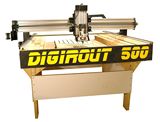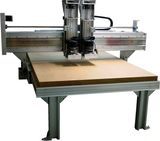 Click on DigiRout Model Below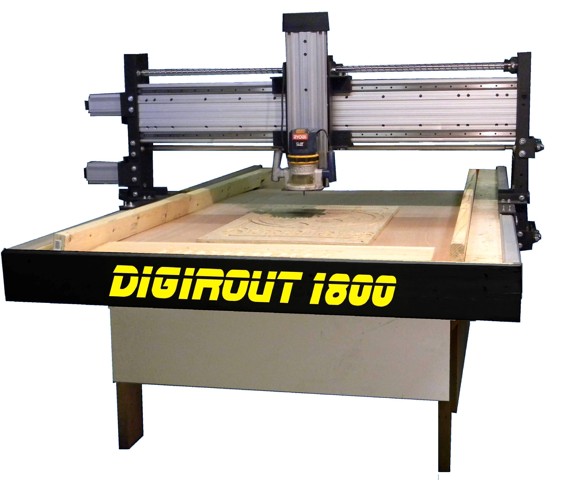 Give us a call Toll Free at 866-966-4335 to discuss your CNC Router application or email us at sales@digirout .

Precision Extruded Bridge
Table Base
AC Servos
Inverter
Hiwin Bearings
Rotary W Lathe Axis
DC Brush Servo
Square Spindle
PC Interface
Nema Control Box
PC Interface
2D CAD/CAM
3D CAD/CAM
Carving Software
PC Motion Controller
Porter Cable Mount
Round Spindle & Inverter
Y Axis Long Rails
Hi Torque Digital Motors
Structural Steel Parts
DigiRout Features
DR1000 Machine Prices
CAT #
Price
DR1800 4' x 8' x 4" cutting area Industrial CNC Router Kit
DR-1000
$6,800
Bolt Together Steel Angle (2"x2"x1/4") Table (4' x 10' footprint)
ST-4808
$400
Porter Cable 7518 3 & 1/4 HP router & Mounting Brackets
SP-7518
$500
Cut2D DXF to Gcode CAM software
SW-CUT2D
$150
Total of Above without Discount

$7850
DR1000 Package Price Discount
-$400
DR1000 Package Price with $400 Discount

PK-1000
$7450
Additional charge for Pre-assembly
AS-1000
$1,000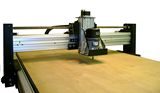 DigiRout 1800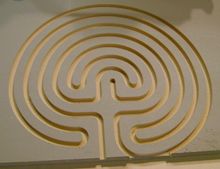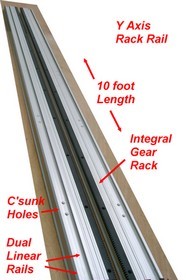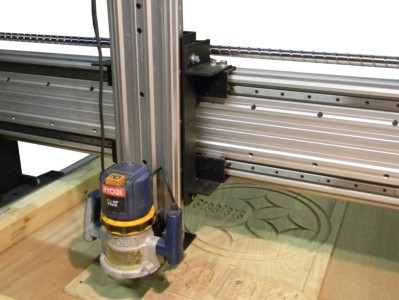 ·
Speeds up to

1000

Inches Per Minute
·
PC based Motion Control
·

AC Brushless

DSP Servo or

DC Brush

Gecko Servo

Drives
·
Precision

Multi-Circuit Ball Screw

on X (Dual) & Z-Axes
·
Rugged Dual Rack & Pinion Drive on Y axis
·
Custom Aluminum Extruded Bridge and Table Rails
·
Precision CNC Fabricated Structural Gussets
·
Hiwin

Square Profile Recirculating

Blocks and Rails

Digirout 1000 Standard Features
Digirout 1800

Pro

Features
| | | |
| --- | --- | --- |
| Spindle Options | | |
| 4.0 HP High Frequency Spindle with Inverter | SP-3KW | $700 |
| 5.0 HP High Frequency Square Spindle with Inverter | SP-4KW | $900 |
| 5.0 HP High Frequency ATC (Automatic Tool Changer)Spindle with Inverter | SP-4KW | $3600 |
| | | |
| --- | --- | --- |
| Vacuum Options | | |
| VC4 V-Clamp $900 Pod (Runs from Compressed Air) | VC-VC4 | $75 |
| | | |
| --- | --- | --- |
| Software Options | | |
| Cut2D CAD/CAM | SW-CUT2D | $150 |
| Cut3D CAD/CAM | SW-CUT2D | $300 |
| PhotoVCarve | SW-PHOT | $150 |
| VCarve Pro | SW-VCR | $600 |
·
4'x8' Cutting Area
·
Bolt Together Steel Table
·

1000

IPM Speed
·
Smooth Contouring
| | | |
| --- | --- | --- |
| Additional Axes Options | | |
| Second Vertical W head with microstep drive | AX-MVW | $500 |
| Rotary Lathe W axis with motor & microstep drive | AX-MRW | $500 |
| Second Vertical W head with servo motor & drive | AX-MVV | $700 |
| Rotary Lathe W axis withservo motor & drive drive | AX-SRW | $700 |
| 5 axis B&C rotary head with microstep drive | AX-MBC | $900 |
| 5 axis B&C rotary head with Servo drive | AX-SBC | $1300 |
| | | |
| --- | --- | --- |
| Motor Drive Options | | |
| XY 400 watt & Z 220 watt AC Brushless Servo Motors and Drives upgrade | AC-XYZ | $600 |
| XYZ DC Brush Motor and 70V G320x Gecko (USA) drives | DC-XYZ | $600 |